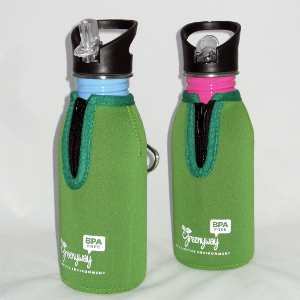 Since we started with the Greenybottles more than two years ago, our top priority has been always listen to our customers. In this way have been improved the bottles according to your questions and suggestions.
Thus we have launched this year 2014 with new features, like more resistant paint models, or a much improved Cap: more robust, making no noise when sipping, which better ajust...
But other two major demands that we have always had, have been:
Improve the water temperature. Many are like to have fresh water in our bottles. Especially now that is beginning to bite the Sun.
Improve resistance to bumps, drops, friction...
As well, to respond to these two demands we have worked on covers for our bottles. And they are now finally available for sale. The two models are for the bottle of 500 ml and 750 ml bottle.
Covers are valid both for new models this year, and for the previous ones.
These covers are made of neoprene, and coated with textile, which complies perfectly with these purposes. In addition, it provides a much more pleasant and safe to grip soft touch.
On the other hand, we want that everyone can try them, so at the launch we launch an offer, that if you buy your bottle with the cover, you get a 30% discount. Do not miss the opportunity!